Australia is a sport-loving country and this is proven by the devotion and followership paid to different sporting activities by the citizens. According to research by McCrindle.com, 4 in 5 Australians posit states that sport is a significant aspect of the Australian culture. It is like the glue or the binding force that brings the people together. While Australia is more renowned for its performances in Cricket, Ice Hockey, and even Rugby, it has produced its fair share of illustrious fighters over the years. This list consists mainly of fighters who have proven their dexterity on the global stage and you may have heard of some of them before perhaps just not aware they are Australians.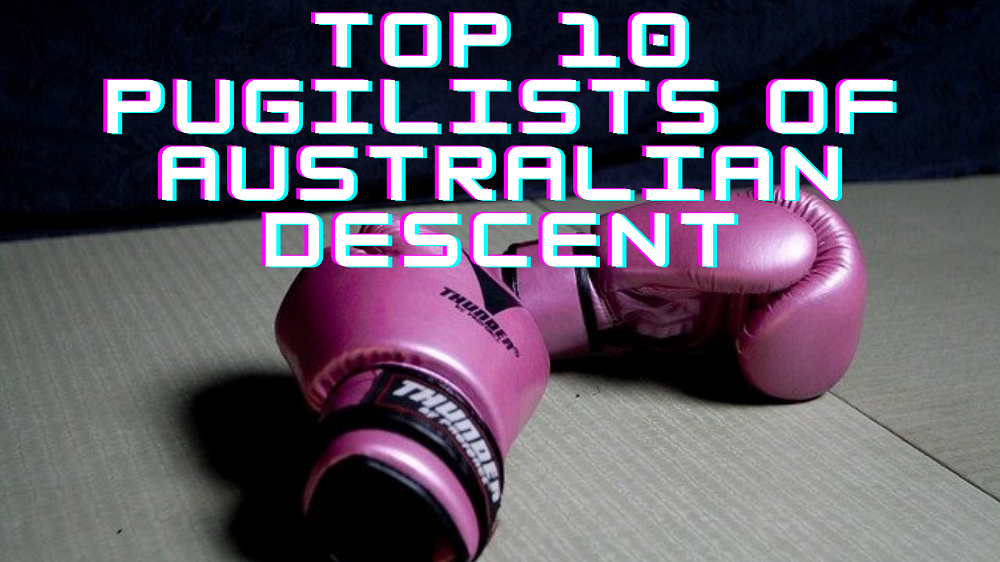 Top 10 Pugilists of Australian Descent
Kostya Tszyu
Perhaps the greatest Australian boxer ever and possibly one of the greatest in the history of the sport globally. He was born in the Soviet Union and began his amateur career representing them and he won the bronze medal at the 1989 world championships. He would later switch to Australia and finish his career with 31 victories and just 2 defeats in his entire career and of the 31 victories, a whooping 25 came through knockouts. 
Lionel Rose
Lionel Rose is another great fighter of Australian heritage. He unified the WBA and WBC belts in 1968 when he defeated Fighting Harada. He would eventually retire after his failure to defeat Yoshiaki Numata for the WBC featherweight title. He finished his career with a record of 42-11 with 12 of the victories coming via knockouts. He passed away in 2011.
Johnny Famechon
Johnny Famechon came from a family with a rich background in boxing; his father was a French lightweight champion. He advanced his family's boxing pedigree by going on to become the Australian, Commonwealth, and world featherweight champion. He had a decent career putting up a record of 56-5-6 (20 KO's) before calling time on his illustrious career. 
Lester Ellis
Lester Ellis nicknamed Master Blaster is a 5-time world champion Australian boxer. He also won the Australian and Commonwealth titles. He cemented his place in Australian boxing folklore with a record of 41 victories and 8 losses. He recorded 28 KO's in his career. 
Jeff Fenech
Jeff Fenech won boxing titles in 3 different weight categories. He enjoyed a fast rise to prominence as he won the bantamweight IBF title in his 7th professional fight. He also won the super bantam and featherweight titles. He had a career record of 29-3-1. 
Les Darcy
Les Darcy is one boxer that is worthy of being named Australia's greatest fighter. He held Australia's heavyweight title just as he held the world middleweight title. Unfortunately, he died at the age of 21 due to pneumonia. He had a record of 46-4 (29 KOs). 
Vic Darchinyan 
Vic Darchinyan was a foreign-born (Armenia) Australian boxer who held the IBF title for over two years. He eventually became world champion in the superfly and bantamweight categories. 
Jeff Harding
Jeff Harding was known as the Hitman in his days and justifiably so, he was such an effective boxer who knocked out 17 of his opponents. He won the WBC title twice in his career and his fighting record is put at 23-2. 
Dave Sands
Dave Sands enjoyed a quite prolific career with an astonishing record of 52 KO's out of 87 fights; a very profitable boxing betting option during his illustrious career. His inability to win a world record was the major dent in his career. He died at the age of 26 in a motor accident. He had a career record of 87-10-1 (52 KOs).  
Rocky Mattioli 
Rocky Mattioli was one of Australia's finest boxers.  In 1977, he won the WBC super welterweight title after defeating Eckhard Dagge in Germany. His career 51 KO's out of 67 bouts meant he had a record 70% knockout record. He was honored for his achievement in boxing when he was inducted into the Australian National Boxing Hall of Fame in 2004.
The list of Australian boxing greats is lengthier than the list above. Boxers such as Anthony Mundine, Vic Patrick, Ron Richards, and Jimmy Carruthers are worthy mentions and could have been included if the list was longer. Boxing is a sport with big prospects in Australia and with the potential to rival other popular sports of the nation with the right investment. However, the combative nature of boxing means that fights are well spaced to allow for recuperation from each fight and to give ample time for training for the next bout. Hence, a reason why it might not be too popular for a sporting nation that loves the constant thrill of sporting events.    
Share this story